Wing Foil or Foil Wing, is a new fascination and type of surfing. It combines different types of surfing into a new water sport.
A little bit of surfing, a little bit of windsurfing and a little bit of kitesurfing and the combination is awesome.  
You ride on a SUP foil board or regular SUP board while holding a handheld inflatable sail, known as a "wing". The sensation of foiling / hydro foiling is quite magical.
Starting wing foil in Algarve allows you to feel new sensations, to move easily and freely on any type of water with relatively simple and easy to set up equipment.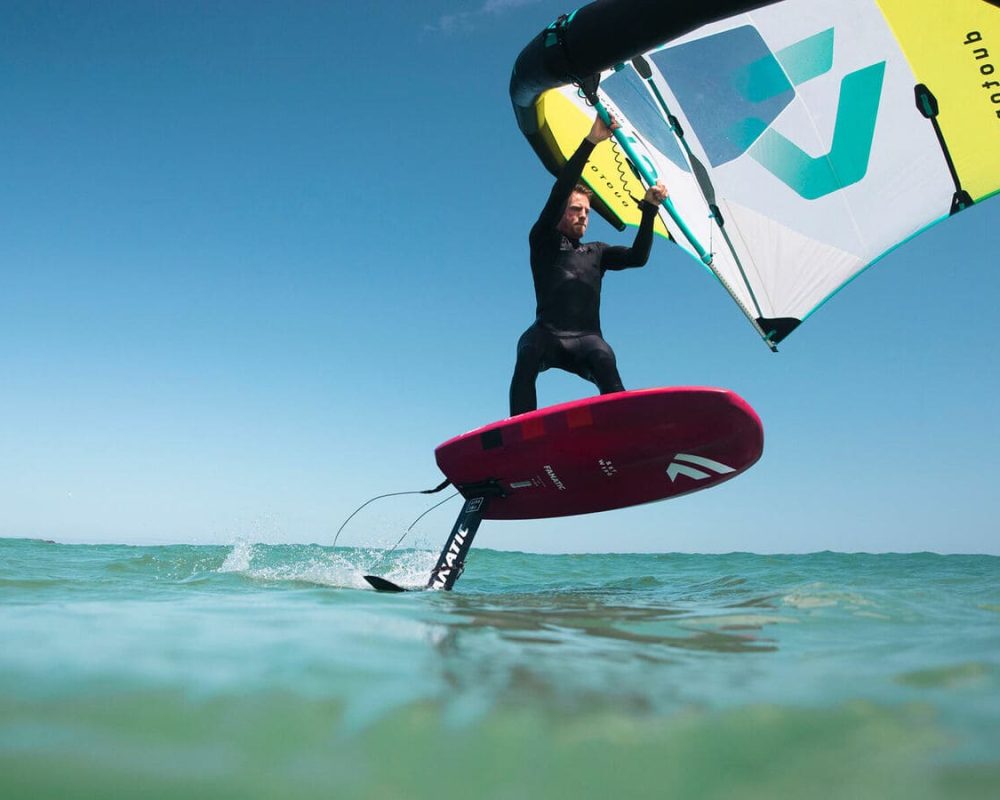 Advantages of practicing Wing Foil in Lagos( Algarve):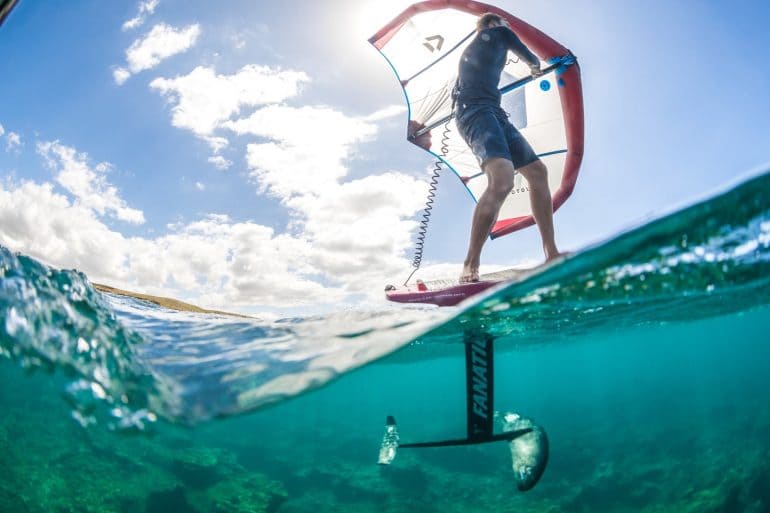 Our WingFoil in Lagos lessons are based on current kitesurfing training concepts, specializing in wing foil.
Your safety and your learning success are our top priorities. The Wing Foil course is individually tailored to your level and your learning progress. 
All students are provided with wing foil gear, wetsuit, harness, lifejacket, helmet, rescue boat and individual personal accident insurance.
4-stage training concept:
After a short theory and the most necessary things you need to know about the wind and the water, you will learn how to use the wing in a short time:
Consist in getting on your knees on the board and getting used to having the wing in your hands (not upside-down) with the handles made for that.
In this lesson on wing foil in Lagos, you will learn how to load the wing, steer it, turn it and so "catch" the wind
You need to have accumulated enough speed with the wind. This allows you to stand up in two steps which is a lot easier.
In this wing foil Lagos lesson, you can refine the handling of the wing on the water and surf for the first time in light wind and smooth water.
We focus entirely on the foil and the wonderful feeling of "flying" over the water silently.
In this wing foil Lagos lesson, we focus on placing your back foot flat on the foil board, allowing you to stand upright. Good foot positioning is essential for a successful launch.
We put all the steps together, you will now learn to operate and control the wing on the foil board.
In this wing foil Lagos lesson, we advise you to keep the wing relatively above your head in a position close to lift neutrality in order not to be unbalanced by the gusts. 
Group Lessons
2 wings and 1 instructor for 4 students

Semi Private Lessons
2 wing and 1 instructor for 2 students
Private Lessons
1 wing and 1 instructor per student
3h / 1 day --->180 €

Rentals
Includes all the gear


Meeting Point : Estra do Vale da Lama 8600 8600, Odiáxere